Dive sites
25 percent of all reefs on earth are located in Indonesia. Thus, it's no wonder to find a large diversity of marine life. The 20 or so different dive sites around the Gilis offer a great variety and diversity. While almost all dive sites are suitable for beginners, the dive sites offer an equally exciting underwater world for the experienced diver. All locations are within a 15-20 minuet boat ride ensuring that you can make the most of your diving day.
Underwater conditions change throughout the year and although present on the majority of dive sites, often vary in strength. For your added safety and comfort we treat every dive as a drift dive, ensuring our well experienced boat crew follow you through out the dive, and are there ready to collect you as you return to the surface.
Our dive guides and instructors have a wealth of local diving knowledge and are always excited to be in the water with you.
Visibility usually average around 20 meters but often varies depending on the time of the year. With water temperature ranging between 26-30 degrees, often at the warmer end of that scale, you can enjoy diving with out the restraints of a thick wetsuit or dry suit.
At nearly all dive sites you can admire our abundance of big turtles.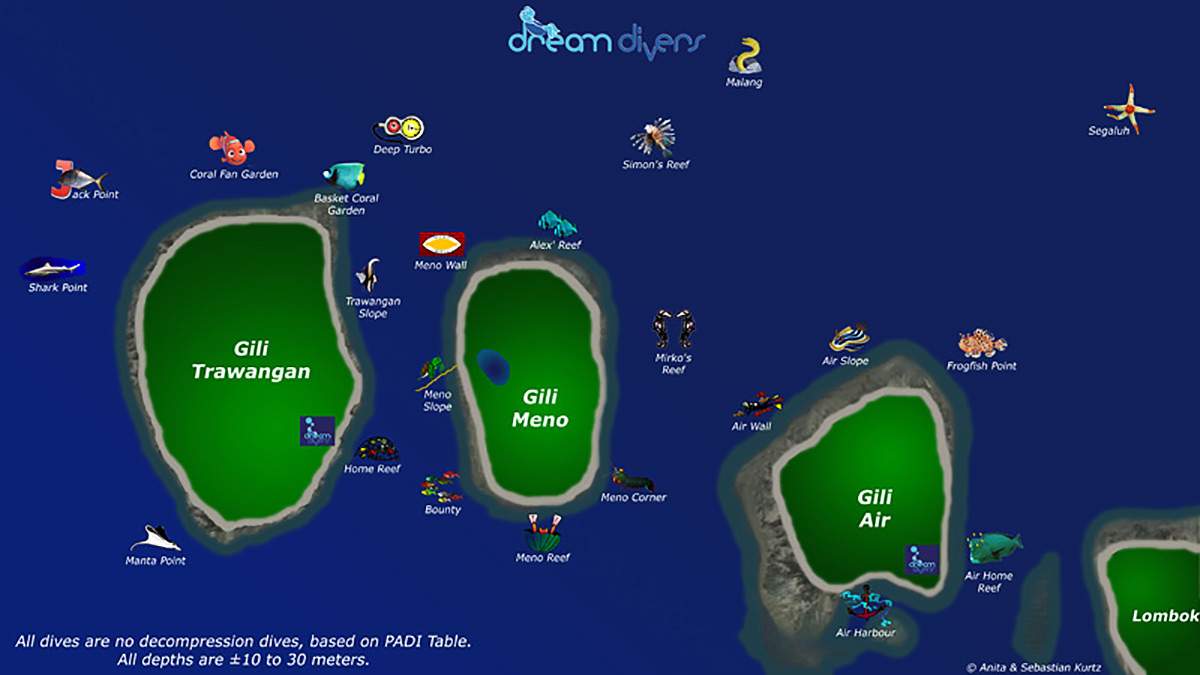 Some of our favorites
Shark Point
A great dive site for encounters with the larger marine life around the Gili's. Starting with a gentle slope, the appearing ridges will take the divers deeper and deeper. Here is where divers are likely to find white tip reef sharks resting on the bottom, black tip reef sharks swimming around and schools of snappers and jackfish. Other regular visitors include turtles, lobsters, octopus, stingrays and bumphead parrotfish.
Manta Point
In the south-west of Gili Trawangan, Manta Point has some of the healthier corals in the area. Large formations surrounded by fields of hard and soft corals provide a backdrop to cuttlefish, white tip and black tip reef sharks, orang utan crabs and turtles. Having fairly gentle currents divers might experience the rocking sensation of the swell passing overhead. Manta encounters are becoming rare however some lucky divers do encounter them during rainy season.
Frogfish Point
This is an all-time favorite amongst divers at the Gili's. Being very photogenic with a beautiful white sandy bottom, divers swim from one coral block to the next. Interesting at all levels, expect to find interesting macro life such as shrimps, nudibranchs and pipefish. Of course turtles are there to be found as well as scorpion fish, stingrays and moray eels.
Air Wall
Located on the north west side of the island, Air Wall is one of the two walls around the Gili's. Starting off with a slope scattered with coral blocks the second half of the dive site a beautiful wall appears. Dropping to about 28 meters deep, this part can be both challenging and a lot of fun when the current guides the divers along the corals. Leaf fish, nudibranchs, cuttlefish and stingrays are some of the residents in this unique topography.